Top reasons about why to watch "raja vaaru rani gaaru" movie online
Cast & Crew: 
Star Cast: Kiran Abbavaram, RahasyaGorak, Raj Kumar Kasireddy, YajurvedGurram, SnehaMadhuri Sharma, Divya, etc.
Story & Direction: Ravi Kiran Kola
Music: Jai Krish
Cinematography:VidyasagarChinta, AmardeepGuthula 
Producer: Mano Vikas 
Genre: A village love story
Introduction:
The love story of the countryside is like a treasure trove for directors for stories from the Black and White era to today's fast age.  Many movies came out and recorded very big hits at the box office when it was utilized properly by the directors.  Also, many advantages and low-risk rates are there for these kinds of movies.  The main requirements for village love drama are a proper story, some entertainment, natural live locations, best-performing actors, and the budget also within limits.  Raja vaaru rani gaaru movie also portrayed the village love story genre with some entertainment.  The movie was released on 29th November 2019.  The audience, who like these kinds of backdrop stories, will definitely love this movie very much.  Even the movie's story is routine. The treatment gives a good and heart touching feel.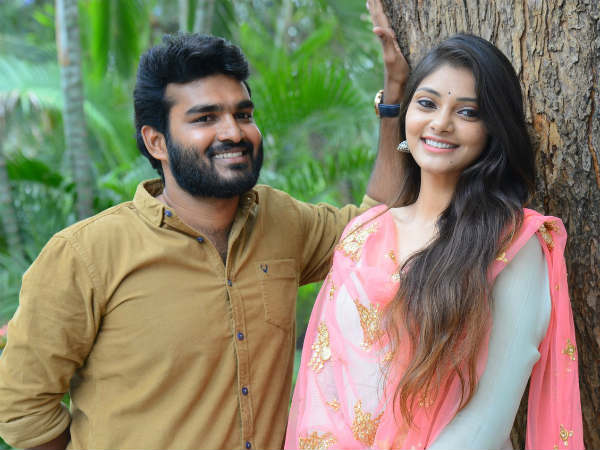 The movie available in aha movies platform in full HD format
Background:
To tell you about the story of the movie, it's a simple love story.  Raja and Rani are living in Sriramapuram village.  Raja loves rani deeply, but he felt fear about expressing his love for rani.  In the meantime, intermediate exams are completed.  Rani's father sends Rani to another town to study Engineering.  While leaving the village, Rani looks at Raja and gives expressions like say bye.  In this sense, Raja felt Rani also loved him, and he lived in the village with her thoughts.  Even, completed three years, Rani did not return to the village.  Raja lives with the hope that Rani will return anytime and accepts his love.  While waiting for Rani, Raja gets frustrated.  For these circumstances, Raja's friends plan to return Rani to the village.  The plan was successful, and Rani returned to the village.  But, how did the Raja propose his love to the Rani?  Does Rani accept Raja's love? Or not?  That thing should be seen in the movie.  
Reasons Why to Watch "Raja vaaru Rani gaaru" movie:
It is very common to experience old smells in the village love stories.  The Director Ravi Kiran Kola succeeded even in that drawback with his directorial skills.
Audiences, who like love stories very much, "raja vaaru rani gaaru" movie gives them a double treat like village backdrop, fresh locations, and feel good heart touching love drama.
Cinematography plays a very vital role in all the love stories, especially the village backdrop.  Naturally, in this movie also the DOP gave a good feel and too good camera work in emotional scenes between hero, heroine.
The team of the movie spent excellent skills to show past life situations in villages.
Comedy scenes between emotional scenes will give a big relief to the audience.
The movie would not have felt boring to the audience.
The entire family can watch this feel-good village love story.
Main highlights of the movie: It is a good refreshing entertainer if you can see the film aside from the things that are a bit old.  Village backdrop, locations, DOP, Direction, background music, new faces in the movie will be involved in the movie from beginning to climax.
Click here to watch Raja vaaru Rani gaaru movie online